News
July 2021
New presentation
July 2019
New publication
October 2018
Video added
We added a video of a "Nashe delo" programme on CTV (in Russian).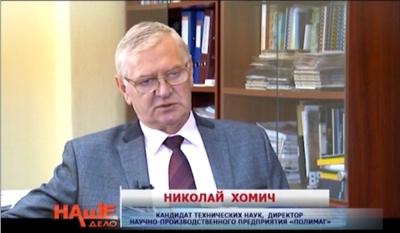 October 2018
New technology
May 2018
New cooperation in Harbin
Heilongjiang Provincial Science and Technology Department has invited Polimag to discuss possible cooperation. S&T Department of Heilongjiang Province is responsible for promoting scientific and technological development in the province.
We took part in the 7th China Harbin International Exhibition of Scientific and Technological Achievements presenting our technology. And also in the Scientific and Technical Conference "Satellite Navigation": presentation on the topic "Technologies and nanotechnologies of Magnetic-Abrasive Polishing of precision products from ceramics, single crystals, optical glasses and metal alloys".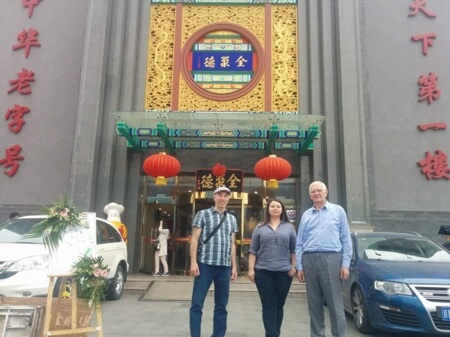 May 2018
Article in Journal of Material Science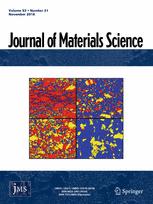 Our article have been published by the Journal of Material Science: Mechanosynthesis of composites in chemical non-reacting and exothermically reacting systems for magnetic-abrasive media. Read article online.
November 2017
Visit to Zhejiang Normal University
Bordering Shanghai to the north, Zhejiang belongs to the most developed area in China. Polimag was invited by the Zhejiang Normal University. We met the top specialists of the University, discussed the areas of cooperation and the next steps for its realisation.
We took part in a joint seminar with the representatives from Belarus and China, which was opened for post-graduates and students of Zhejiang Normal University.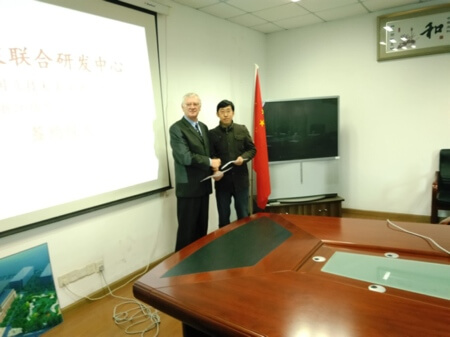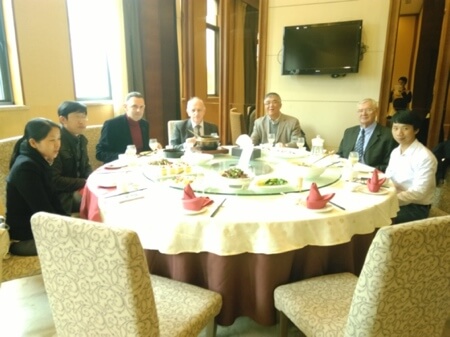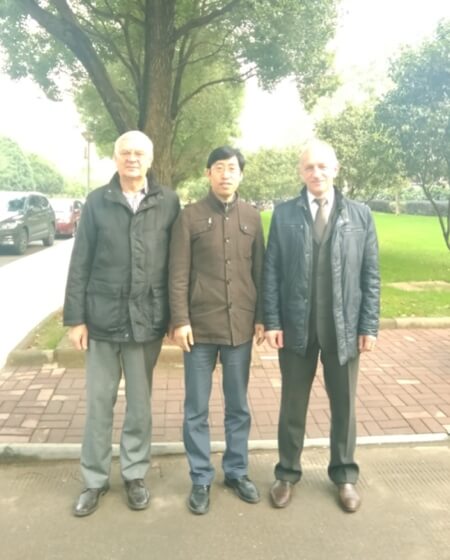 December 2016
Visit to Korea
Polimag took part in the 5th Korean-Belarusian S&T Forum. We also visited the Korean Atomic Energy Research Institute (KAERI), had interesting dicussions and signed an agreement on scientific and technical cooperation.
At a meeting of the Nuclear Energy section, Mikalay Khomich presented on the topic "Development and implementation of the unique innovative technologies and equipment of magnetic abrasive machining for cleaning, polishing, and improvement of surfaces and interfaces for precision elements of optics, laser technology, electronics and nuclear engineering".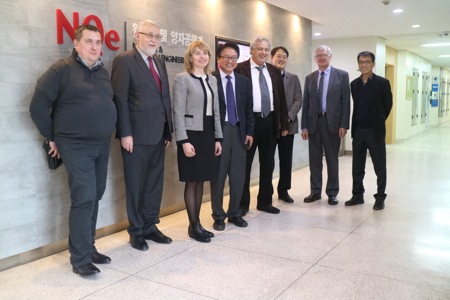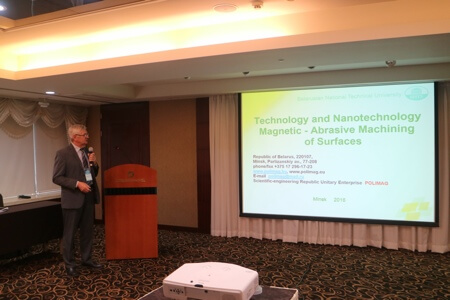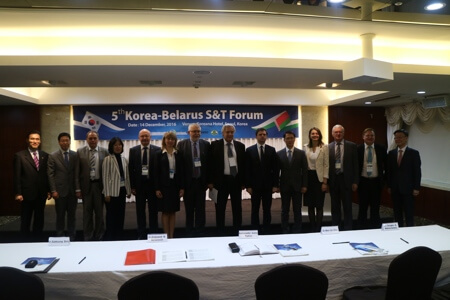 September 2016
Liaocheng Foreign Experts Conference - September 26-28, 2016
Liaocheng city in Shandong province is hosting an event that will bring together key local Chinese businesses and international foreign experts. Polimag will present its technology and meet companies to develop future collaboration in the domain of finishing surface treatment.
July 2016
Cooperation is getting stronger
Within the framework of the Belarussian Center for Scientific-Technical Cooperation with Chinese provinces, a delegation of Changchun Institute of Physics, Optics and Precision mechanics. The delegation consisted of MA Minya - Vice-President of Changchun Institute of Physics, Optics and Precision Mechanics, LI Yaobin - assistant of Vice-President of Changchun Institute, XIANG Yang - Director of Department of Fundamental Research of Changchun Institute, ZHANG Liaming - Director of International Relations of Changchun Institute, NING Yoangqiang - Leading Engineer of Changchun Institute, ZHENG Shuhui - Leading Engineer of Changchun Institute, Deputy Director of Belarussian-Chinese Industrial Park in Changchun.
The guests were very interested by the presentation of the Magnetic-Abrasive technologies given by Oleg Korogod.
May 2016
New connections with Lithuania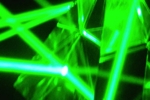 In the beginning of May 2016, Polimag held negotiations with the Lithuanian company specialised in laser optics Altechna. As a result, we have started joint experiments on:
Magnetic-Abrasive polishing of high-precision surfaces of the laser crystals from different materials,
removal of the defective coatings from the crystal surfaces.
March 2016
Delegation from Gansu
On the 15th of March 2016, a delegation of experts from the Chinese province Gansu has visited Polimag. The sides discussed possibilities and terms of collaboration.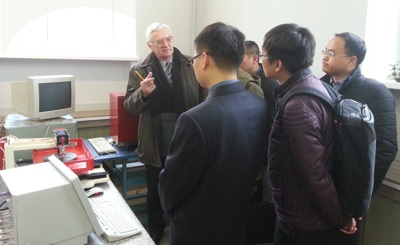 February 2016
New Polimag's equipment in Italy
On the 25-26th of February 2016, at Ribos srl (Italy), Polimag's specialists put into operation the equipment for the Magnetic-Abrasive polishing of the inner surfaces of steel pipes of complex profile. They have been developed at Polimag under the order of our Italian partner.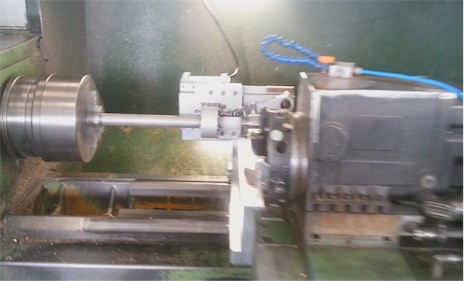 January 2016
Collaborations develop
In December 2015, Mikalay Khomich, Director of Polimag, had paid a visit to China, invited by the International Technological Cooperation Union of Guangdong Province. He took part in the activities guided by the Ministry of Science and Technology of China together with the Government of Dunguan - a Week of International Scientific-Technical Cooperation.
During this visit he coordinated plans of the joint activities with the representative of the scientific-technological organisations and companies of the topic of the Finishing Magnetic-Abrasive Polishing of the High-Precision Parts.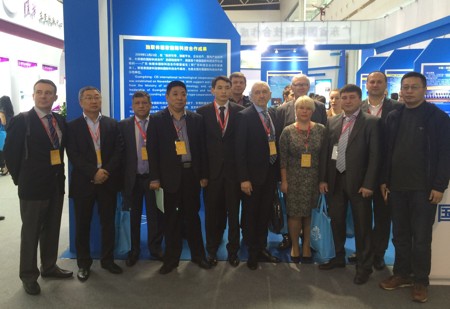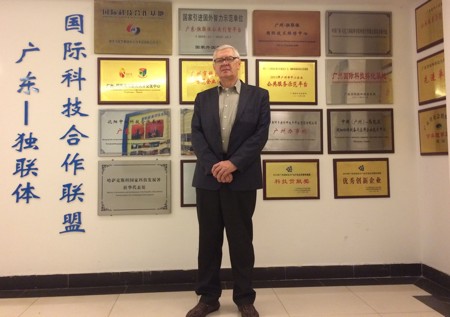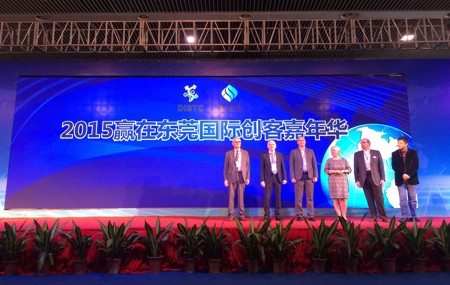 September 2015
Visit to China
Director of Polimag, Mikalai Khomich as a member of the Belarussian delegation has visited China in August 25-31, 2015.
Several meetings and negotiations were held in the province of Shandong with the scientists and specialists from the Inner Mongolia Metallic Materials Research Institute (IMMMRI), Russian-Chinese Center of High and New Technologies, Yantai University. Parties have discussed the results of join activities and coordinated plans of their continuation.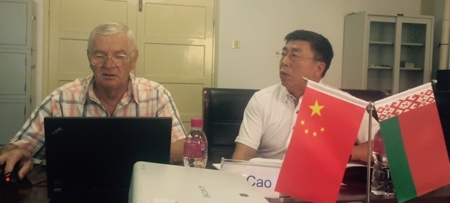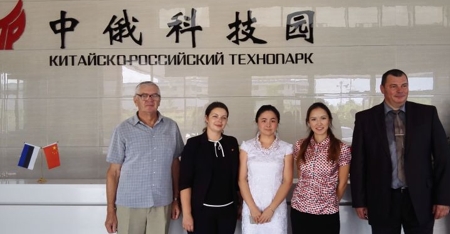 August 2015
Delegation from China
Active cooperation with Chinese partners doesn't stop even during hot summer months.
We had the honour to meet the delegation of Guandong Union for Scientific-technological cooperation headed by it's General Secretery – Guo Fengzhi. The delegation was as well presented by You Yuxian and Yan Jimei, Hongbo Group Co, Ltd.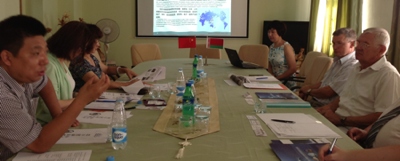 August 2015
Results
The great result of the negaotions, held in Minsk on 6-7 August 2015: Italian company Ricos will receive an installation for the Magnetic-Abrasive Polishing of the inner surfaces of pipes of complex shapes.
More information about our equipment >>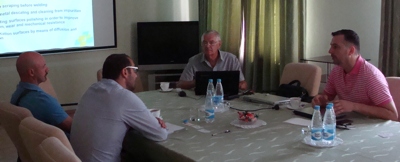 August 2015
Recent partners
Magnetic-Abrasive Machining is gaining new markets! A new contract has been concluded with Italian Partners.
Another great news: Chinese scientists and industrial companies are very interested in our technology: more visits to China are planned in the coming months.
July 2015
New article

A new article about our technology came out in Science and Innovations, no.6, June 2015 (in Russian). Here you can see the whole article (1MB).
April 2015
Hannover Messe
We will be happy to see you and to present our technology in Hall 2, Stand C58 from the 13th to the 17th of April.
April 2015
New content on our website
We have added some new pages and have updated others. Please, find more information on:
April 2015
Hannover Messe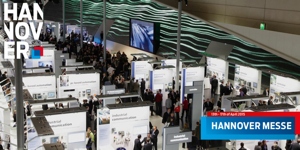 Our company is included into the official Belarussian delegation to present us at the Hannover Messe 2015 - The world's biggest industrial fair from 13 to 17 April: http://www.hannovermesse.de/home.